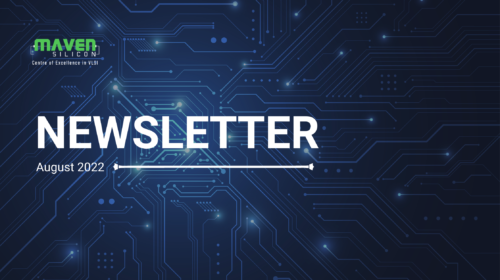 Sometimes we win.
Other times we learn.
At all times, we move forward.
The world around us has been changing profoundly and to adapt with it, we not only require a change of mindset, but we also need to learn and adapt to newer skills, tools, and working models. At Maven, we had an excellent quarter engaging with our industry partners, understanding their changing needs, framing the new problem statements, and planning the path ahead.
Here's a summary of what we've been up to recently:
Corporate Training: Upskilling 500+ Engineers
This quarter, we are training 500+ electrical and electronics engineers hired by our industry partners Qualcomm, Synopsys, Samsung, Capgemini, Continental, and Accenture and making them skilled and project-ready VLSI engineers. We thank all our industry partners for their trust and support, and We look forward to working with many other VLSI companies and supporting our Indian Semiconductor ecosystem.
Maven Silicon Collaborates With Synopsys
We are delighted to partner with the top EDA company Synopsys to provide all our trainees unconstrained EDA access with the cutting-edge Synopsys' EDA tools for the complete VLSI-ASIC Design flow – Specification to GDSII. It empowers all our trainees to explore and gain experience in all the domains like Design, Verification, DFT, and PD and get a job as industry-ready engineers.
In this partnership initiative, we are also upskilling the New College Graduates directly hired by Synopsys and making them skilled and project-ready VLSI engineers. We take this opportunity to thank Synopsys India management and team for the same. We are very glad and proud of this partnership and looking forward to a long-term association with Synopsys.
"SoC Verification Flow and Methodologies" article published in Design & Reuse
Our CEO Mr. Sivakumar PR's article on "SoC Verification Flow & Methodologies" published by Design & Reuse talks about the various verification methodologies used for verifying IPs, Sub-systems, and SoCs. In this powerful article, he explains why we need new methodologies/standards like PSS.
Click here to read this insightful article on SoC Verification Flow & Methodologies.
Placement Highlights: 500+ Mavenites Placed in 2022
With our best-in-class course structure and placement assistance, we have placed 500+ Mavenites in the top semiconductor companies like Cadence, Capgemini, Cyient,  HCL,  INTEL, LAM Research, Mentor Graphics, Microchip, Synopsys, Tech Mahindra, Thales Aerospace, UST global, and many more in 2022 so far. Maven Silicon has consistently been ranked among the top VLSI training companies, enabling VLSI aspirants with cutting-edge VLSI courses, highly-engaging training, and a plethora of opportunities to carve their mark in the Semiconductor Industry.
Click here for placement updates.
Producing the Next-Gen Physical Design Engineers
After the successful launch of our Advanced Physical Design & Verification Course, we have received a huge response from VLSI aspirants who want to pursue their career as Physical Design Engineer. Recently, our Principal Engineer Mr. Putta Satish has published an insightful blog which explains the complete VLSI Physical Design Flow beautifully in detail.
Click here to read this blog.
As India is planning for "made in India" chips, the semiconductor future of India looks very promising, and we are up for some really exciting times ahead. At Maven Silicon, we are continuously adapting to stay relevant to all that is happening around the world of business and looking forward to contributing big to the semiconductor future of India.