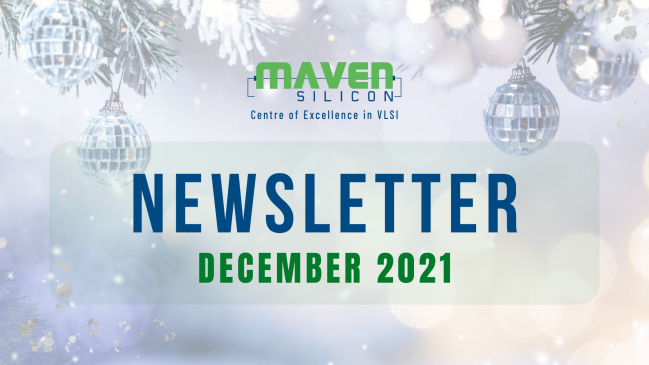 We had an excellent year in 2021, collaborating and building a robust semiconductor knowledge ecosystem globally. Our partnership with the great minds and organizations is a strong validation of the strides we have made to make Maven Silicon the center of excellence in VLSI.
The last quarter had been challenging yet satisfying for us at Maven Silicon. Here's a summary of what we have been up to recently:
ARM Approved Training Partnership (ARM + Maven Silicon)
We feel elated to announce that Maven Silicon is now an ARM Approved Training Partner (AATP). As an AATP now we are delighted to upskill the engineers on ARM architecture and technology, globally. ARM approves and supports a selected number of accredited partners to deliver ARM training courses, and we are pleased to be one among them.
Learn more, https://www.maven-silicon.com/arm-approved-training-partner
Placed 700+ Mavenites in the VLSI industry in 2021
We at Maven Silicon are committed to bringing forth the best of opportunities for our trainees, our hiring partners, and the entire ecosystem.
This gives us a great sense of pride and pleasure that more than 700 of our trainees started their career in the semiconductor industry this year and joined companies i.e. Cadence, Capgemini, HCL Technologies, Intel, LTTS, Microchip, Samsung, SmartDV, Synopsys, Tech Mahindra, Tessolve, Thales Aerospace, UST Global, Wipro, etc.
We wish they can foresee the problems of the future and work in teams to drive the next wave of innovation.
Read more, https://www.maven-silicon.com/corporate-hire-talent
"VLSI Design Careers" Article published in Semiconductor Engineering
Our CEO Mr. Sivakumar PR's article 'VLSI Design Careers' published by Semiconductor Engineering, explains why aspiring VLSI engineers should consider learning processor design for their long-term career in the semiconductor industry.
In this article, he explained the reason why this segment of the market is so promising. He also explained what the aspiring VLSI engineers should do for their long-term career in the semiconductor industry.
Check out this article for more: https://semiengineering.com/vlsi-design-careers/
Gratitude to our Industry partners and customers for the immense support which helped us scale our mission to curate great VLSI talent. Sincere 'thank you' to our team for keeping the lights shining bright. We look forward to 2022 with hope and optimism.