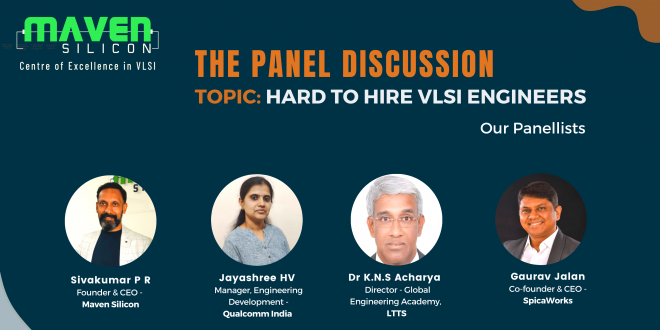 "In India, we have thousands of engineering colleges and universities that produce 1.5 million to 2.0 million engineers every year, and there could be more than 100,000 electrical and electronics engineers every year. Yet, we are struggling to deploy 10% of them as skilled VLSI engineers for the semiconductor industry", says Mr. Sivakumar PR , Founder and CEO, Maven Silicon.
One of the major global issues for the semiconductor industry  is the widening talent gap. The industry is facing severe talent shortages in the specialized fields of electronics and electrical engineering, which are actually the semiconductor industry's building blocks.
That's where Maven Silicon, which is India's top VLSI Training services company took the onus as a Centre of Excellence in VLSI and organized a much needed and very intriguing panel discussion on, "Hard to hire VLSI Engineers"
The discussion was graced by our industry veterans and very charming panelists:
Dr K.N.S Acharya
Director – Global Engineering Academy, L&T Technology Solutions 
He has Total of 34 years of wide-ranging experience spanning from Industry, academia to applied research. Currently he is a member of the Senior Management of L&T Technology Solutions as Director of Global Engineering Academy.
Mr. Gaurav Jalan
CEO & Founder, Spica works
Gaurav Jalan has 2 decades of industry experience. He is Cofounder & CEO of SpicaWorks, a semiconductor design services company with over 200+ engineers working in India across multiple locations. 
Dr Jayashree HV
Manager, Engineering Development,  Qualcomm India Pvt. Ltd
Jayashree holds a Master Degree in VLSI & Embedded Systems and PhD in the area of reversible computing. She has worked in multiple organizations in different roles which includes software development, Academician and now leading a team at Qualcomm to develop technical expertise of employees across the globe. 
Mr. Sivakumar P R
Founder and CEO, Maven Silicon
Sivakumar is the Founder and CEO of Maven Silicon. He is also the Founder and CEO of Aceic Design Technologies.He is a seasoned engineering professional who has worked in various fields, including electrical engineering, academia and semiconductor industries for more than 2 decades and specializes in offering Verification IPs and consulting services and EDA flow development.
And, here is me, Sweety Dharamdasani hosting this lovely discussion. I manage training and quality at Maven Silicon and am a very passionate Business Communication coach. 
The discussion witnessed some astonishing facts and insights on topics like hiring challenges faced by the semiconductor industry, methods to groom engineering workforce, skill set required and the role of partners like Maven Silicon in bridging the gap between demand and supply.
Watch the video to explore more, Panel Discussion – Hard-to-Hire VLSI Engineers – Part 1 | Maven Silicon
Here are some excerpts from the conversation:
Sweety:  Hiring the right engineer is a very challenging task.  What are the challenges that you all are facing in terms of hiring the right/talented engineers? 
Dr K.N.S Acharya: The country is going through a very exciting period today in terms of the available opportunities, but in the last 34 years of experience, this is the second time that I have seen an extreme shortage of talents. 
L&T witnesses about 1000+ openings every week. But closing these positions is a task. With the existing talent that is busy shopping around, the only solution to scale up in this current scenario is to create new talents in the market, and that is only possible when the organizations, academia and training partners like Maven Silicon come together. 
Mr. Gaurav Jalan: We as a country have really matured over the past few years in terms of innovation and also the startups are a testament to it. 
Spica Works as an early organization, also believes in the power of collaborating with the training companies like Maven Silicon to get over the existing hiring problems. 
Dr Jayashree HV says that we have enough engineers available in the market so where is the problem? 
She very beautifully highlights the gaps like lack of hands-on experience and a right attitude to solve the problem at hand. "People with less skills can be trained but people with poor attitudes are difficult to settle with.", says Jayashree.
Mr. Sivakumar P R: Maven Silicon has the responsibility of providing the right engineers to the industry. In order to onboard the best engineers from academia and introduce them to the semiconductor industry, the first step is to identify their passion and capability towards it. 
"Why wait for graduation to complete?" The engineers should enroll and learn the fundamental concepts like chip design flow. For example, how a System-on-Chip can be built using IPs and subsystems or infact how a smartphone is built using an SoC, right from the second/third year of graduation. For that, Maven Silicon organizes technical workshops and provides free webinars and online courses and works closely with all colleges across the country to generate awareness about the industry.
Watch the video to explore more, Panel Discussion – Part 2 – Hard-to-Hire VLSI Engineers | Maven Silicon 
Sweety:  Now that we spoke about these challenges, what are the methods here that the industries are adopting? How do you groom or upskill your engineering workforce? 
What is the role of training partners like Maven Silicon?
Dr. Acharya highlights the importance of volume hiring for the services industry like L&T. 
L&T carries out a lot of cross skilling and upskilling internally, works with university partners and works on their curriculum to build on the application capabilities and skills of students. 
A major pool is hired from training partners like Maven Silicon and they offer transformed and skilled engineers.
Gaurav explicitly highlights the gap between what is being taught and what is actually applied. 
He says that this is where training companies like Maven Silicon are grooming the young engineers and providing industry ready professionals for companies like Spica works.  This collaboration between Maven Silicon and Mr. Jalan is a trustworthy partnership of more than 10 years. 
Dr Jayashree told us about the experiments and challenges they faced in upskilling the new hires during the pandemic. Activities like hackathons and assessments helped them ramp up their workforce. Apart from the technical skill set, Qualcomm also offers mentoring sessions on communication and presentation skills which are cardinal.
Jayshree says that their collaboration with Maven Silicon in the DV space was a total hit.
Maven Silicon saw a major shift from traditional classroom teaching to providing online training solutions. 
Siva says that Maven Silicon introduced the online courses way before the pandemic,  to reach out to the engineering students during their graduation. With more than 1000 subscribers to the foundation courses in the initial phase, Maven Silicon validated their online courses, and cloud-based LMS and support system. A robust infrastructure for labs and project work actually surpassed the barriers like geographic locations for learning. 
Watch the video to know more, Panel Discussion – Part 3 – Hard-to-Hire VLSI Engineers | Maven Silicon 
Sweety:  What other essential skills do you expect from the engineers, apart from their core technical skills? Please elaborate.
Dr. Acharya believes that the fundamental to any kind of success and sustainability is learnability. 
This is what also gets observed during the recruitment process from L&T. 
The key skill that Gaurav looks for is communication.
In the industry where the projects are done across the globe and across cultures, communication should be impeccable. 
Along with the importance of Never Give up attitude, Jayashree also asks for innovative thinking and sense of ownership from the employees. Needless to say, Communication and Presentation skills top the chart. 
Mr. Sivakumar PR believes in the importance of continuous learning and effective communication. 
He wants the Engineers to understand the big picture like how we design electronic systems that are composed of hardware and software . That's where the courses at Maven Silicon start with a detailed understanding of System on Chip design. IPs, subsystems, interfaces, firmware, device drivers, operating system, and every little detail is a part of the training curriculum.
 Watch the video to explore, Panel Discussion – Part 4 – Hard-to-Hire VLSI Engineers | Maven Silicon 
Sweety:  What can we do to inspire engineers to be part of the semiconductor industry? 
Also, How can the industry help training companies like Maven Silicon bridge the gap between academia and industry?
Dr. Acharya says that amidst this whole chaotic space of what do I learn and where do I learn from, the role of teachers becomes very crucial. Teachers and trainers are to be more of mentors and coaches now. 
Also, an early sensitization about the VLSI space in the third year of graduation itself from the industry will really help here.
Mr.Gaurav says that the availability of information for the current generation is a boon for them.
"If you like a mix of hardware and software, this industry gives you that." A well respected job,good money and also an international exposure, you say it and the industry will give you that.
"With the number of electronics available in each household, there could not be a better feeling that you have contributed to creating that", says Mr. Jalan.
Some introductory guest lectures from the industry folks for undergraduates can definitely help in building the awareness here.
Dr. Jayashree says that some mentorship programs for career guidance should definitely be included in colleges to help the young folks make an informed decision.
Also, Dr. Acharya says a good idea will be to include industry folks to the Board of studies which will really help.
Mr. Sivakumar PR here asked for the participation and support from the industry partners in creating awareness by creating events like panel discussions, leadership connect, etc..  Also feedback on the curriculum is much appreciated. Along with that a lot of support from the EDA partners like Siemens EDA would be helpful. 
Maven Silicon has explored some amazing avenues of partnerships with companies like Qualcomm, and Internship alliance with L&T. We can play an essential role in training and help industry with bulk requirements. 
Watch the video to explore more, Panel Discussion – Part 5 – Hard-to-Hire VLSI Engineers | Maven Silicon 
It was a profound discussion and we are all together in this was the bottom line.
In the spirit of togetherness, Maven Silicon thanked all the professors who teach engineering concepts and produce good engineers. The industry needs talented engineers who are passionate about chip design. At Maven Silicon, we train them further extensively on VLSI Design methodologies and implementation processes and make them industry-ready. 
Ofcourse, with the support from our industry partners, we deploy them in the semiconductor industry. 
We are very thankful to all our industry partners for their faith in our training process.
Together we can and we will make a difference!
Watch the video to explore more, Panel Discussion – Part 6 – Hard-to-Hire VLSI Engineers | Maven Silicon
     – Sweety Dharamdasani
       (Host and Narrator)