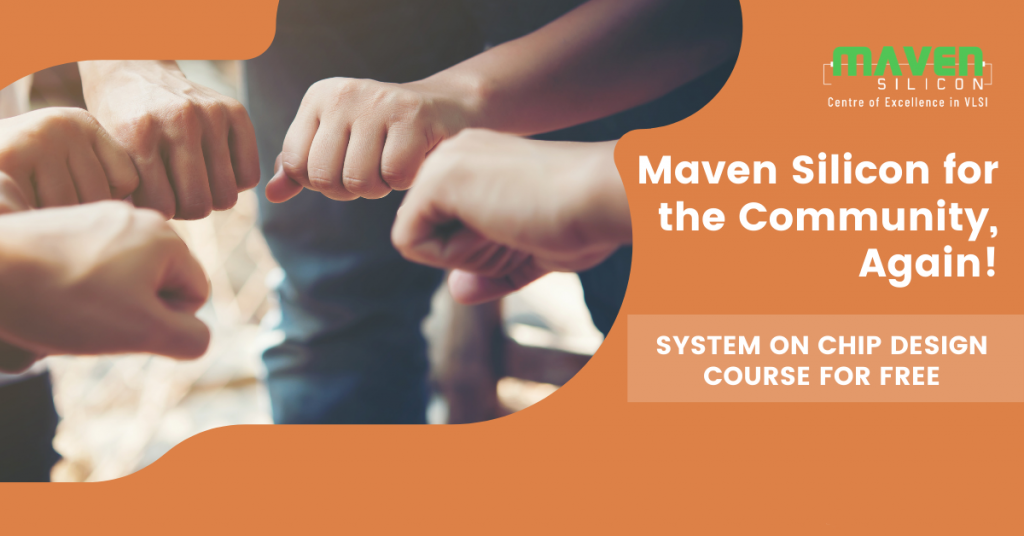 Growing up, career choices are the most difficult decisions that one has to make. Isn't it?
How can I get into the core industry?
What is VLSI? Why Chip Design? What is SoC?
How can I build my long-term career in the Semiconductor industry?
So many questions like these hovering around!
But, What if we had someone who is an Industry Expert to guide us and nudge in the right direction?
Sounds like a dream far from reality right? Well! Not really.
Maven Silicon which is India's top VLSI Training Company is here for you with their initiative to help the aspiring engineers to understand the VLSI Design & Semiconductor Industry during this COVID situation.
You can Unlock your FREE ONLINE VLSI SoC Course and take the first step towards a beaming career in the Semiconductor Industry.
The System on Chip Design online course will give you a holistic understanding of VLSI Technology, SoC Architecture, VLSI Design Flow, and the Semiconductor Industry.
It will walk you through all the concepts, VLSI overview, Moore's Law, Why VLSI?, Smartphone Design with SoC, and ASIC Vs FPGA.
With this complete overview, VLSI Design Flow module explains all the steps of IC design in detail from Specification to GDSII with various examples. After learning these concepts you will be familiar with the complete chip design process. It helps you to understand any technologies related to front-end design or back-end design and learn them further on your own.
And the cherry on the cake is the Instructor of the course.
The entire course is designed and delivered by our Founder & CEO Mr. P R Sivakumar, seasoned engineering professional with 20+ years of experience in Industry and Academia.
With this initiative, Maven Silicon is truly living by its mission of contributing to the semiconductor industry and to the community of Engineers.
We are here to help you with the most crucial step in your career choice, absolutely free of cost.
Get to know the subject, the industry and make an informed career choice for yourself.
All that you need to do is:
Click here: https://elearn.maven-silicon.com/vlsi-system-on-chip-design
and Subscribe to the FREE VLSI System on Chip Design course for Free.
So! Wait no more and leverage this exclusive opportunity for your bright future.
All the best! Shine on!