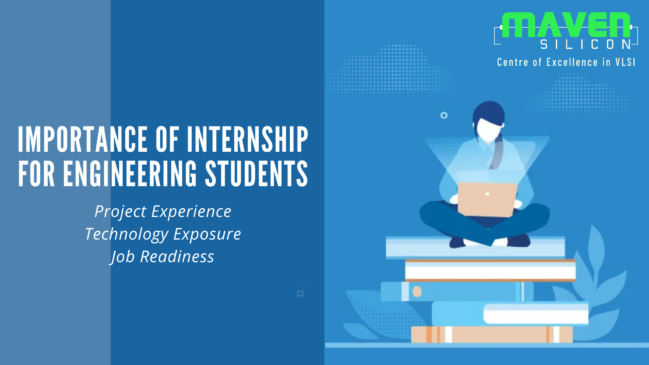 Every university/college is making the internship mandatory and asking their UG students to do it while doing the engineering course itself. However, it used to be only for the PGs. I feel it's a good initiative towards making the engineering courses more valuable and relevant to the industry. So, in this article, I would like to explain the importance of doing the internship and why should you choose Maven Silicon for the VLSI internship.
Why Internship? 
Project Experience – Projects that you have done define the value of your internship, not the internship-experience certificate. More importantly, your knowledge and experience of the projects will help you to get the job later on.
At Maven Silicon, we offer industry-standard VLSI projects that are based on System-On-Chip protocols, like AXI, AHB, SPI, UART, I2C, Bluetooth, WiFi MAC, USB, RISC-V, ARM SoC, etc. Based on the engineer's qualification UG/PG, we provide relevant projects like design or verification IP.
Process – How you do projects, the steps/process you follow, is essential. You are going to explore the same in the industry. In the interview, the interviewer will ask you to explain the process, how you have done the project. This will help the interviewer to understand what you have really done during the internship. How can you be more authentic and confident? At Maven, we walk you through all the steps, Design Specification, IP Documentation, Verification Planning, RTL/TB coding, Simulation/Synthesis, Code Review, Managing Versions & Revisions, Project Management, etc., and help you to do the project independently. This project experience will help you to convince the interviewer confidently and bag the job offer.
Deliverable – Deliverable could be a design or verification module/IP. Still, it should include all the necessary scripts, documents, examples, along with the verified source codes.
At Maven, we help you understand the importance of delivering a high-quality product, design/verification IP, and meeting the timelines. If you didn't create a proper execution plan, you would never be able to deliver it on time. In addition to VLSI technology, you will also have exposure to project management.
Technology Exposure – What you have learnt at college may not be sufficient to do the VLSI projects. So, at Maven's VLSI Internship we train you further on the relevant languages and methodologies like RTL design, Verilog HDL, Verification Methodologies, SystemVerilog, UVM, etc., and make you ready before deploying you on the VLSI projects, using our online VLSI training courses, as self-learning is very essential for the internship.
Job Search – After finishing the engineering course, searching for a job full time being idle at home is outdated. So, how can you connect with the industry and search for the right job while doing your engineering course? At Maven, we help you create your CV & LinkedIn profile while guiding you on how to use social media to connect with the working professionals. This will definitely help you connect with the right professionals and get your dream job in the semiconductor industry at the time of graduation.
Get trained at Maven Silicon with our Online Internship Programs, which focus on doing Industry-Standard projects by following good design practices & principles while applying theoretical concepts and transforming you as a Hands-on VLSI Engineer.