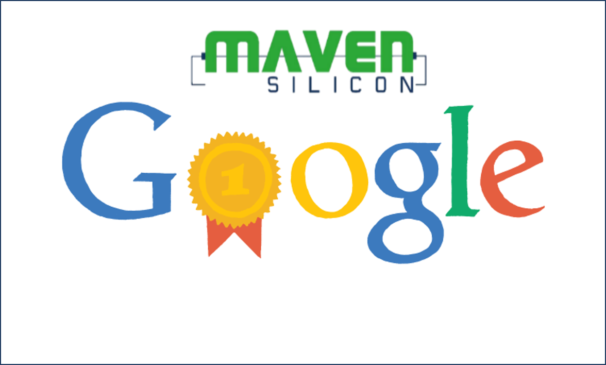 Maven Silicon has always been Google's choice as a highly rated top-class VLSI training company in India. So when you search for the VLSI Training, Google displays Maven Silicon at the top. We have been enjoying this 'Number 1' rating for many years because of our brand value and business reputation, and not because of any special SEO efforts. Google's search engine algorithm is amazing and it predicts the brand value of the companies precisely and rates them properly, irrespective of their own paid Ad campaigns. This is the reason why people trust Google blindly. 
We have built Maven Silicon as a top-class brand, utilising most of the innovative business solutions from Google. This is a perfect example of how the powerful global MNCs like Google, LinkedIn, Facebook, etc., can help the startups survive independently and offer good services to the community, enjoying the brand visibility. We entrepreneurs do business globally utilising the powerful online ecosystem created by the global MNCs, though we are part of the evolving traditional industry ecosystem.
Now Google is also setting up it's IC design centre in India and it's is really good news for us. One of our alumni has recently joined with Google and made me proud. The same way I felt equally proud when 11 engineers from Maven Silicon have recently bagged their job offer simultaneously from a top class services company which invited 400+ trained engineers from various VLSI finishing schools in India and hired only 14 VLSI engineers finally. I am very proud and happy about the fact that 11 out of 14 are only from Maven Silicon. This is how we prove our brand value and this is the reason why Google rates Maven Silicon as a Number 1 VLSI Training company in India. 
I am very thankful to all our dedicated employees and supportive trainees and Industry partners. Thank you all!
Here is our celebration:
https://www.facebook.com/pg/Maven-Silicon-326974926639/photos/?tab=album&album_id=10156085583736640&__tn__=-UC-R