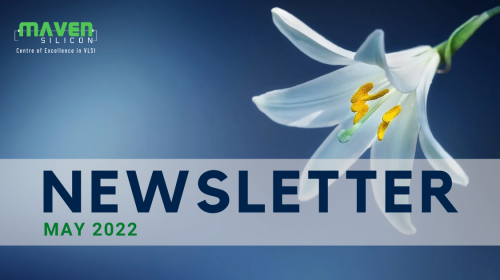 "Take up one idea, Make that one idea your life; dream of it; think of it; live on that idea. Let the brain, the body, muscles, nerves, and every part of your body be full of that idea, and just leave every other idea alone. This is the way to success" – Swami Vivekananda
Creating a state-of-art destination for the world-class VLSI training for every engineer across the globe and supporting the semiconductor industry with skilled talents is our idea and mission at Maven Silicon, which keeps us inspired to create value, drive excellence, and build a far-reaching impact in VLSI training.
We are delighted to share our latest updates with you through this summer newsletter from the blog of Maven Silicon.
Experts Talk – RISC-V CEO Calista Redmond and Maven Silicon CEO Sivakumar P R on RISC-V Open Era of Computing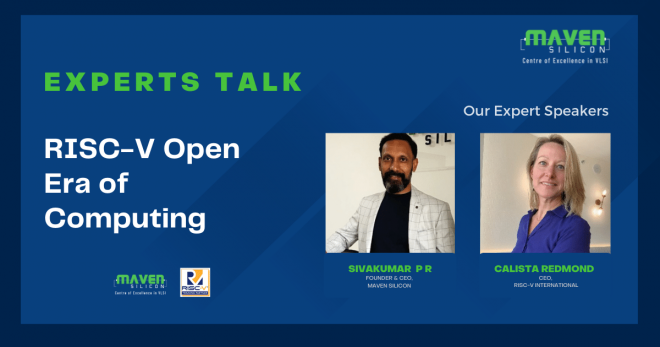 It was truly a tremendous experience for Maven Silicon to organize an insightful discussion with the industry experts Ms. Calista Redmond, CEO, RISC-V International, and Mr. Sivakumar P R, CEO, Maven Silicon, on the topic "RISC-V Open Era of Computing".
We would like to thank and appreciate Ms. Calista Redmond and Mr. Sivakumar P R for sharing their experiences, and so deeply discussing the diverse topics including opportunities around RISC-V, and tips for VLSI job aspirants, women in business, etc.
Click here to read the full article that was published on RISC-V blog.
Incredible moment – Launch of the Advanced VLSI Physical Design and Verification Course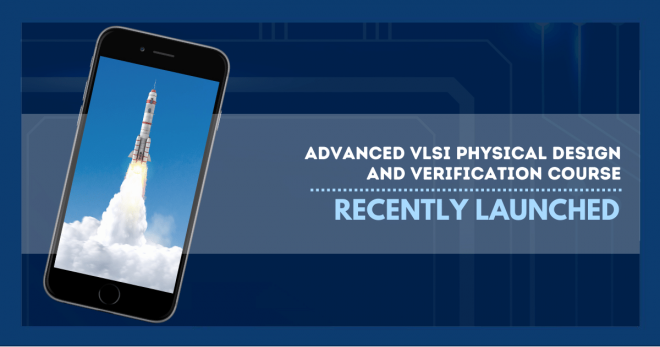 Maven Silicon strongly reinforces the potential to provide a one-stop destination for VLSI Courses for engineering students, fresh graduates, and working professionals by launching Advanced VLSI Physical Design and Verification Course. We are delighted to announce that Maven is now a Centre of Excellence in VLSI training for both front and back-end VLSI courses.
Click here to explore our Physical Design Course.
Our true success is our trainees' success: 300+ Mavenites got placed in 2022 already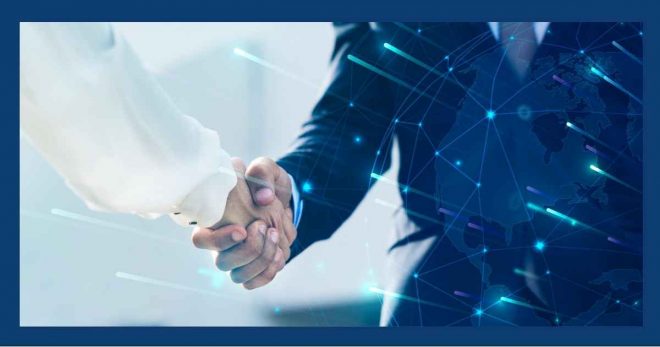 We are raising the bar on high-impact VLSI Courses, with plentiful opportunities for the VLSI aspirants to get a strong foothold in the fast-growing Semiconductor industry. Consistently ranked among the top VLSI training companies, Maven Silicon is where the cutting-edge VLSI courses and the highly-engaging training meet. We have helped the top semiconductor companies like Aura Semiconductor, Bosch, Cadence, Capgemini, INTEL, LTTS, Mediatek, Mentor Graphics, Microchip, Synopsys, UST global, and many more to reach and find the right talents. We have placed more than 300 Mavenites in the top Semiconductor companies on VLSI roles in 2022 already and are looking forward to producing many more skilled engineers this year, globally.
Click here for placement updates
In Semicon India 2022, our honorable Prime minister Narendra Modi said, "It is our collective aim to establish India as one of the key partners in global semiconductor supply chains and India's own consumption of semiconductors is expected to cross $80 billion by 2026 and $110 billion by 2030". As a member of this thriving ecosystem, we at Maven Silicon strive to make giant leaps to bring quality VLSI training to the engineers at the grassroots and to contribute to the growth of the Semiconductor industry in all possible ways. We sincerely thank our team and all our partners for sharing our journey.