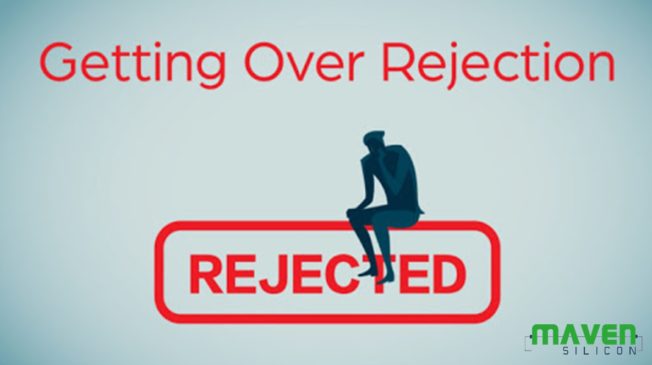 You are rejected and you find yourself in a bubble of disappointment, dejection, and regret.
The rejection is not an issue. The issue is our way of looking at rejection.
Who has not seen rejection in life?
Walt Disney was fired by an editor who thought the cartoonist, ironically, lacked imagination.
Talk show queen Oprah Winfrey, likewise, was fired as an evening news reporter by her producer who said she was "unfit for TV."
And, Amitabh Bachchan was rejected by All India Radio for his thin voice, unsuitable for a radio jockey.
All three of them got rejected and the choice they had was to cry over it or take this as a challenge and rest is history.
Rejection hurts but it is not the end of the world. You need to focus on the ways to come out of this phase.
The best way to start is to take stock of the situation. Something obviously did not work.
What went well?
What you could have done differently?
Did you demonstrate your passion and knowledge of the industry?
Did you let your positivity shine through, showcasing your skills as a team player?
Did you give awesome, concrete real-time examples?
Give yourself a pat on the back for the pieces you did well, and make a note of how you might do things differently in the future.
Here are a few important things you should know to get over rejection and evolve as a stronger and positive player:
Dust off the spotlight effect – Your worry that everyone around you was watching your embarrassing rejection moment
It happened due to YOU, not sure – There could be external factors i.e. a more experienced candidate, a candidate with additional skills etc.
Overthinking, won't help – Don't fabricate a story to fill in the gaps you don't know
Room for improvement, yes – Learning from mistakes and honing in new skills is essential. Ask for feedback if possible
Try again, the key to success – Gear up for the new opportunities that you might not have gotten if you did succeed
Plan for the "No" – When you expect to be rejected, and yet you still go ahead and try anyway, then nothing can stop you.
Rest of the world is still the same – Your family will still love you. Your ability to get this job will only get better. The sky isn't falling. Your friends still enjoy spending time with you.
Just take rejection as a sign that it didn't work this time and think about how you can learn from the experience, rather than trying to forget about it.
Rejection is just redirection.
We at Maven Silicon groom and prepare our trainees for different patterns/forms of interviews as a part of our VLSI RN Course. It makes them resilient and comfortable before their Big day. Getting comfortable and Savvy with interviews is what the freshers need at this juncture to face all kinds of situations positively.