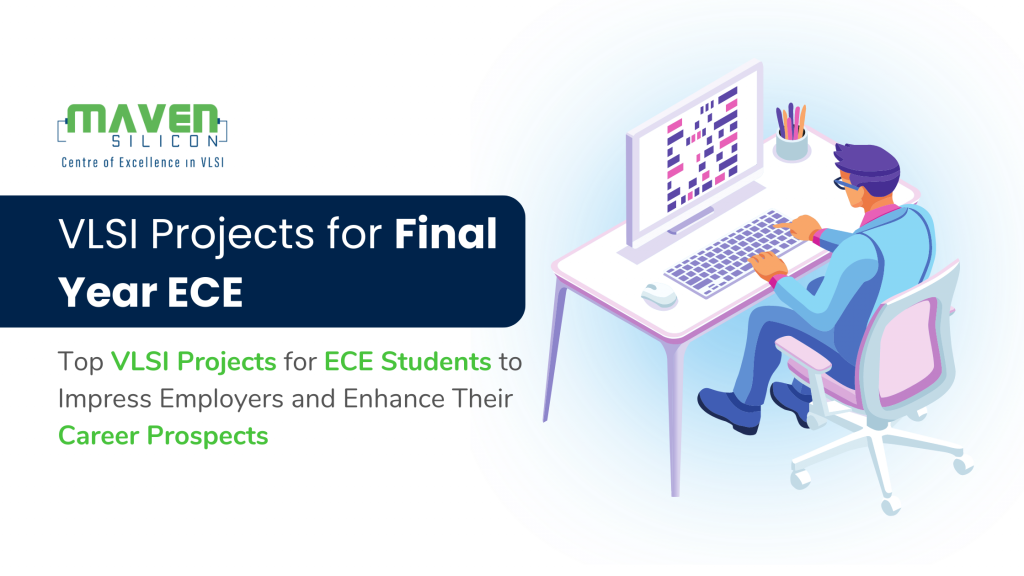 VLSI projects are an important aspect of the curriculum for final-year Electronics and Communication Engineering (ECE) students. These projects not only help students develop their technical skills but also prepare them for the challenges they will face in the industry.
VLSI projects involve the design and implementation of integrated circuits (ICs) using software tools and fabrication techniques. Some popular VLSI design tools include Cadence, Synopsys, and Siemens(Mentor Graphics).
Also read: What is VLSI?
There are several topics that students can choose for their VLSI projects, ranging from basic digital circuits to advanced topics such as low-power VLSI, high-speed VLSI, and VLSI for artificial intelligence and machine learning. 
Some examples of VLSI projects that final-year ECE students can consider are:
Design and implementation of a digital circuit using VLSI design tools

Low-power VLSI design for portable devices

High-speed VLSI design for communication systems

VLSI design for machine learning algorithms

VLSI implementation of a processor or microcontroller

VLSI design for image and video processing
To make their VLSI projects more impactful, students can also consider adding a real-world application or a novel approach to the design. This can make their projects stand out and demonstrate their technical skills to potential employers.
Also read: Why VLSI Internship Programs are Important for Students in 2023?
When working on a VLSI project, it is important for students to keep in mind the principles of good design and follow best practices. This includes adhering to design guidelines and standards, following a systematic design flow, and verifying the design for correctness and performance.
Also read: Salary of VLSI Engineers in India
In conclusion, VLSI projects are an excellent opportunity for final-year ECE students to apply their technical skills and knowledge in a real-world setting. By choosing an interesting and challenging topic, and following best practices for design and implementation, students can create impressive projects that will set them up for success in their future careers.
Want to kickstart your career in the VLSI design industry? Take a look at our job-oriented VLSI courses get hands-on experience on projects and get 100% job assistance.