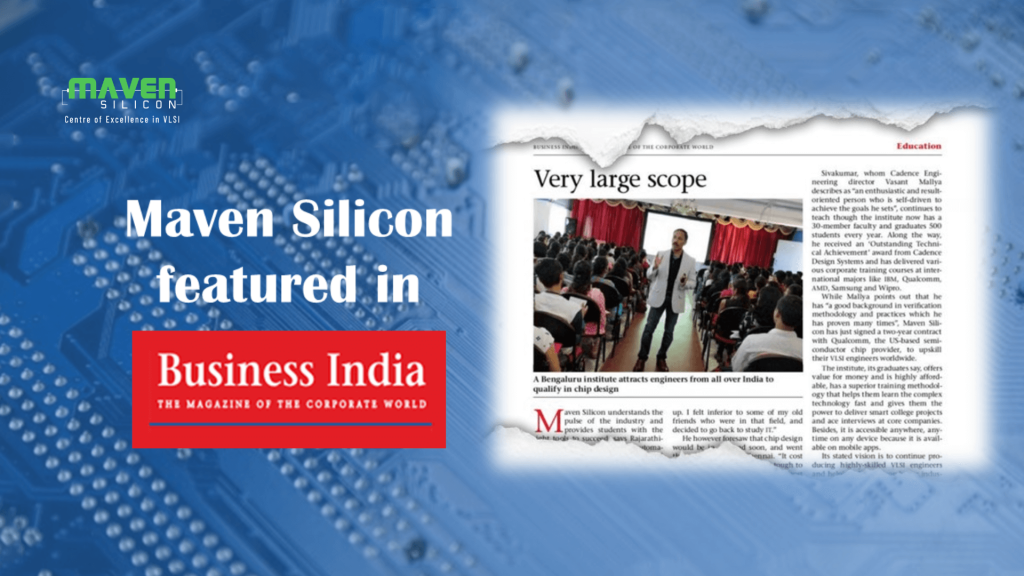 Business India magazine interviewed our Founder and CEO Mr. P R Sivakumar, VP Mr. Catakam Kumar, and our alumnus, and published this article meritoriously.

It beautifully narrates our founder's journey and explains how Maven Silicon is collaborating with the global semiconductor companies and upskilling their VLSI engineers worldwide as their preferred VLSI training partner. 
We are very proud and glad to share some of the snippets from the article here.
"Maven Silicon understands the pulse of the industry and provides students with the right tools to succeed. The institute has experienced, knowledgeable and helpful tutors, its curriculum is concise and up-to-date, and its lab sessions reinforce theoretical learning", says Rajarathinam, our alumnus and a Senior Verification Engineer at ARM. 
Sivakumar P R, the Founder, and CEO of Maven Silicon says, "I got the opportunity to study computer science at Madurai Kamaraj university but opted for electrical and electronics engineering. I realized after working in areas like high-power transmission and sugar plant maintenance that Information technology was picking up. I felt inferior to some of my old friends who were in that field and decided to go back to study IT". He added that he however foresaw that chip design would be in demand soon and went through a course in Chennai. He recalls, "It cost me Rs.80,000, which I found tough to raise. But I got a job almost immediately because there was a scarcity of engineers who had specialized in VLSI, which is the process of creating an integrated circuit by combining millions of MOS transistors onto a single chip. But I realized that I was not growing as well as I had expected."  
The Big Picture: 
It was then, in 2010 that Sivakumar remembered the challenges he had faced and decided to get into training others specifically for the job instead of teaching them only the basics. He says, "I designed the curriculum according to the industry's need, set up labs and projects. I created the course from scratch, showing my students the big picture" 
Sivakumar, whom Cadence Engineering director Vasant Mallya describes as "an enthusiastic and result-oriented person who is self-driven to achieve the goals he sets", continues to teach though the institute now has a 30-member faculty and graduates 500 students every year. Along the way, he received an 'Outstanding Technical Achievement' award from Cadence Design Systems and has delivered various Corporate training courses at International majors like IBM, Qualcomm, AMD, Samsung and Wipro.
Mr. Catakam Kumar, Vice President of Maven Silicon adds, "I intend to make it a global academy online and get the present ILT (Instructor-led training) and classroom training to adapt to new technologies and extend more courses in subjects like IoT and AI". 
Read the full article here:
Article: 'Very Large Scope', Page No: 49 https://businessindia.co/emagazine/cash-is-king