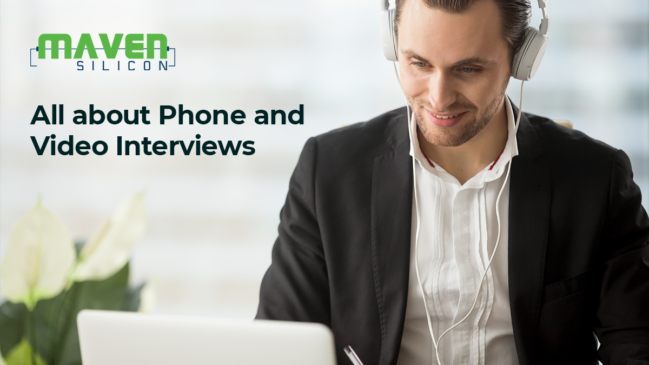 We have advanced in terms of tools and technology. But still, when it comes to a job interview, Phone and Video interviews are yet to be a part of the mainstream process.
Phone and Video interview process is different than a face to face in terms of the perks and challenges tagged along. But what matters the most here is our awareness around the preparation for both telephone and video interviews.
Here we go with the list:
Phone Interview:
Pre Preparation:
Keep a copy of your resume along with the Job description
A notebook and pen should be a part of your stationery
Settle in a quiet place which is no cluttered and has no distractions
Check for the network connectivity on your phone
Adjust the distance from your microphone to ensure clarity
Do a mock call to be assured of the connectivity
Rehearse your call: Must do!
During:
Greet
Indulge in a small talk
Make sure to ask the name of the interviewer
Prefer a chair to sit instead of a couch/bed
Tone is crucial
Make sure you are audible
Smile: yes it reflects in your voice and helps your inflection.
Listen! Do not cross-talk
Avoid awkward silence. Communicate well!
Buy time to process your answer and also communicate in case of a network distortion.
Closing:
Ask for feedback and thank the interviewer.
Video interview:
Everything that you consider for a phone interview should be followed for the video interview too. Plus a few more to do's:
Always test run the software/application to be used for the interview
Dress well, as for a face to face interview. No pajamas!
Choose the best space: Room with a lot of light and a subtle backdrop
Adjust the Camera so that you are clearly visible on the screen
Pay attention to your posture and eye contact
Phone and video interviews definitely overpower the face to face interview in terms of calming your job nerves. Leverage this opportunity to emerge as the right candidate for the job.
We at Maven Silicon groom and prepare our trainees for different patterns/forms of interviews as a part of our VLSI RN Course. It makes them resilient and comfortable before their Big day. Getting comfortable and Savvy with Telephone and Video interviews is what the freshers need at this juncture.